There is always going to be a need for dentistry aimed at people with special needs. That's the topic of this article – but we begin by acknowledging that not everyone likes that term, "special needs." The National Center for Biotechnology Information, for example, calls it "an ineffective euphemism," while the folks over at the "A Day in Our Shoes" website recommend abandoning "special needs" for disabled. "Disabled. Disability. It's ok to say the word," their site says.[1]
Special Needs Dentistry
Interested in more Special Needs
Dentistry posts from the Center for
Dental Anesthesia? Click here.
Many authorities agree. Albert H. Guay, DMD, chief policy advisor emeritus for the American Dental Association, said the phrase "special needs" is imprecise. "It's such a broad basket of conditions that are covered by the term special needs that it doesn't say very much and, on the other hand, it sometimes says far more than it means to say."[2]
Fair enough. But "disabled" often implies a physical limitation, and at The Center for Dental Anesthesia in Alexandria we treat a wide range of patients, including those with physical disabilities, and people with Down syndrome, epilepsy, autism, and dental phobia.
"To me," says the CDA's Zeyad Mady, DDS MAGD FICOI, "special needs means the inability to 'cope' with a traditional dental office setting, whether it is voluntary or involuntary." At The CDA we respect all our patients, and no inferences should be drawn from use of the term special needs.[3]
Recognizing Needs
There is a clear link between a person's dental health and their overall health. Unfortunately, people with special needs tend to have higher-than-average rates of dental health issues. "Studies have shown that individuals with special health care needs have more risk of developing dental problems and untreated dental diseases compared with their healthier counterparts," Dr. Mady says.[4]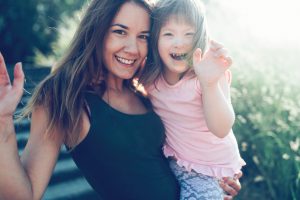 Things are made worse by the fact that it can be difficult for people with special health care needs to find a practice willing to treat them. Effective care depends on recognizing and understanding the patient's condition, whether it's physical, cognitive, emotional, or something else. But many ordinary practices are reluctant to treat people with special needs because for many such patients, a conventional dental setting can be a challenge.[5]
Dr. Mady says the CDA tries to meet the needs of anyone with special health care needs. "The CDA office was created to tackle such patients from all aspects: setting, sedation, experience and post-operative care."[6]
Sometimes special needs patients are unable or unwilling to tolerate dental treatment. Even a simple checkup can be unbearable. Many of these patients benefit from the use of dental anesthesia. The most common reasons for using anesthesia, in fact, include a lack of cooperation, as well as multiple conditions. A lack of cooperation is especially common in patients under fourteen years of age.[7]
Using dental anesthesia has several benefits. Chief among them is that it tends to result in the best treatment outcome. It also helps to comfort the patient, especially during longer appointments, and is useful to the dental team in patients who are uncooperative. The CDA is committed to providing quality care for all patients. Everyone, after all, is entitled to good dental health.[8]
Treating patients with special needs of any kind requires skill and empathy. The Center For Dental Anesthesia in Alexandria is committed to high quality special needs dentistry, including care for older patients and those with dental phobia. Dr. Mady, Dr. James Geren, and the entire CDA team have advanced training in dental anesthesia and are committed to the highest standards of dental care. Our doors are also open to the general public. Please call our office to schedule an appointment.
Contact Center for Dental Anesthesia:
Location (Tap to open in Google Maps):
______
Notes
[1]      "Special needs" is an ineffective euphemism: National Center for Biotechnology Information website.
https://www.ncbi.nlm.nih.gov/pmc/articles/PMC5256467/#:~:text=However%2C%20special%20needs%20is%20not%20a%20legal%20term.&text=And%20never%20once%20are%20children,law%20as%20individuals%20with%20disabilities,
Special Needs Vs Disabled? The "New" Term To Say Instead Of Special Needs, A Day In Our Shoes website:
https://adayinourshoes.com/disabled-instead-of-special-needs/.
[2]      Dr. Guay quoted in "Serving Patients with Special Needs," by Allison M. DiMatteo, PA, MPS.
https://www.aegisdentalnetwork.com/id/2009/02/serving-patients-with-special-needs
[3]      Dr. Mady quote: Email interview, March 28, 2019.
[4]      Link between dental and general health: see, for example, "Oral health: A window to your overall health." The Mayo Clinic,
https://www.mayoclinic.org/healthy-lifestyle/adult-health/in-depth/dental/art-20047475
"Serving Patients with Special Needs."
https://www.aegisdentalnetwork.com/id/2009/02/serving-patients-with-special-needs
Dr. Mady quote: March 28, 2019.
[5]      "Providing Care to Patients With Special Needs." Uncredited article at https://dimensionsofdentalhygiene.com/article/caring-%E2%80%A8for-patients-with-special-needs/
[6]      Quote: Email interview, July 2019.
[7]      For more, see "Dental anesthesia for patients with special needs," p. 123.
https://reader.elsevier.com/reader/sd/pii/S1875459712000744?token=D56D64816929F7C84747275C4872C646EDA4A393F1792F6A3FDD8F3C269D717DE603F617F6D6200B05838FB87660D88E
[8]      "Dental anesthesia for patients with special needs."