Dr. Pouria S. Rahini-Madjzoub, DDS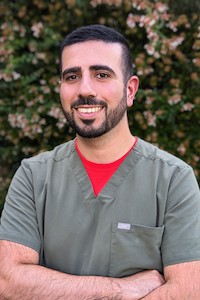 Dr. Pouria Rahini grew up locally in Great Falls, Virginia. He graduated Cum Laude as a member of the honors college at Virginia Commonwealth University with a bachelor's in biology and a minor in chemistry. Interested in utilizing both his skills as an artist and his desire to become a provider in healthcare, he then pursued a career in dentistry, attending the NYU College of Dentistry. A member of the American Dental Association, Virginia Dental Association, and Northern Virginia Dental Association, Dr. Rahini takes pride in utilizing an artistic eye with modern techniques and knowledge in dentistry to diagnose and treat dental disease, while also ensuring that his patients feel that they are a part of the process in maintaining their oral health.
When not in the office, Dr. Rahini prefers to spend his free time playing tennis, painting, checking out books from the library, as well as keeping up with the latest movies and shows.