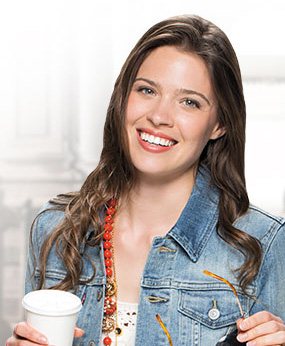 Dreaming of showing off beautiful straight teeth? We are proud to provide Invisalign invisible orthodontics at the Center for Dental Anesthesia.
A Simple Route to Smile Improvement
Invisalign was designed with innovative dental technology to fit into our busy modern world. Many patients want attractive smiles with straight teeth, but they might not want to undergo the pain and anxiety associated with traditional metal braces. Now you can skip the stress associated with metal orthodontics and achieve a flawless smile with removable Invisalign clear braces.
Comfortable, Subtle, Convenient
Invisalign clear braces consist of a series of custom-made, clear, removable aligners that are worn like retainers. Your custom aligners will gently move the teeth into their ideal positions. Each time your smile makes significant process, you will change out your current set of aligners for the next set in the series.
Your aligners will fit your teeth snugly, and the smooth plastic will make them comfortable to wear. You can remove your clear braces to eat, drink, brush, and floss.
Even while you are wearing your aligners, no one will even notice your subtle clear braces. When you take them off to clean them, you will find that your oral hygiene routine is just as simple as ever.
Rapid Treatment Time
Invisalign clear braces can create straight teeth faster than traditional orthodontics. Dr. Mady utilizes a high-tech computer program to determine the most efficient way to move your teeth into their perfect positions. Invisalign treatment time is often less than a year!
Is Invisalign Right for Me?
If you are searching for the most comfortable route to achieving straight teeth, Invisalign could be the right treatment for you. Maybe you or a loved one thought straight teeth would be impossible due to special needs or difficulty sitting in the dental chair. Here at the Center for Dental Anesthesia, we use a combination of gentle care, advanced technology, and dental sedation to give any patient an excellent orthodontic experience.
The best way to decide whether or not Invisalign is for you is by visiting our experienced dental professional, Dr. Mady. We would love to see you in our office soon for a consultation. Contact us today!
Related Content