Alexandria Dentist Dr. Katie Tigani, DDS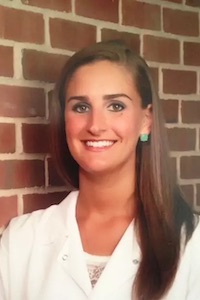 Dr. Katie Tigani is an enthusiastic and diligent third generation general dentist following in the footsteps of her grandfather, aunt, and 3 uncles. Originally from Bethesda, Maryland, Katie grew up in the D.C. area and attended high school at Georgetown Visitation. She obtained her Bachelors of Science degree in Nutrition Science from North Carolina State University in 2010, and went on to complete dental school at the University of Maryland School of Dentistry in 2014.
Dr. Katie went back to North Carolina for residency, receiving her Advanced Education in General Dentistry certificate through the East Carolina University School of Dental Medicine in 2015. After completing the program, she made Virginia her home when she moved to Arlington in 2015 and she has been practicing dentistry in the DMV area ever since.
She spent 6 years working with Catholic Charities Nonprofit Dental Clinic where she improved her Spanish speaking skills and loved having the ability to serve the underserved. Like Drs. Mady and Geren, Dr. Katie recognizes the importance of continuing education, and she dedicates hours of study to new and evolving therapies, treatment modalities, and technologies. She is an active member of the D.C. Dental Society and the American Dental Association, among others.
While she feels lucky that dental visits were always fun growing up thanks to her family, Dr. Katie greatly empathizes that dental visits can induce stress and aims to make all appointments as enjoyable as possible. She feels blessed to have the knowledge and skills to help keep patients out of pain and confident and happy with their smiles. When not in the office, she devotes her free time to her family, including her dog-ter Dottie, and she teaches sculpt classes at Corepower Yoga.